First a fence, and then a hand across it
York College:
441 Country Club Rd, York
The situation
Some students viewed the safety fence erected to define York College's campus in 2008 as an attempt to wall in students.
Others believed the brick-and-wrought-iron barrier would signal to the community that the public wasn't welcome to events on campus.
College officials pointed out the fence was modeled after those constructed on other campuses.
Community leader Jeff Kirkland observed at the time that other colleges in urban areas do not have them.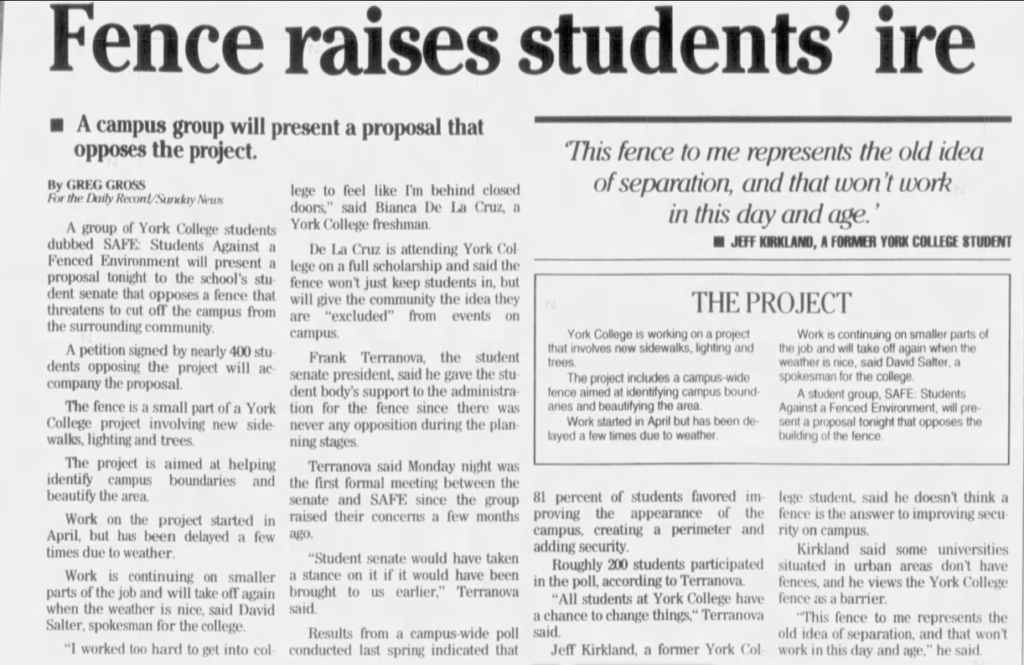 He pointed to a flaw in the fence plan in the big picture: "The fence, to me, represents the old idea of separation, and that won't work in this day and age."
Indeed, the York community, then as now, was working on trust. When the fence was planned in 2007 and erected in 2008, the community was not too many years away from the long-delayed, roiling court trials of assailants involved in two killings in race riots of the late 1960s.
So the timing of a fence signaling a barrier to the college's connection to a community that was 50% Black and Latino came at a bad time, if there ever would have been a good moment.
The college pointed out that the fence was part of a larger beautification project and that it was designed to define the campus and thereby add safety.
In the end, that act of defining would be the problem of an us-against-them variety. Students formed a group called SAFE, Students Against a Fenced Environment.
But the protest came after the project had started. There was no walking it back. The fence, a project that likely came in north of $1 million, went up.
And stands today.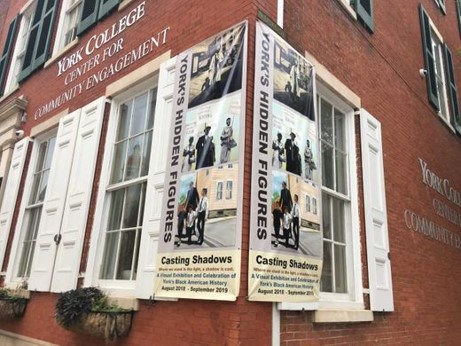 The witness
Time passed, and at least two opportunities arose for York College to reach across those fences, all the way into York's downtown. The college grabbed them.
The York County Industrial Development Authority acquired the old Fraternal Order of Eagles lodge in 2009 and embarked on a $2.8 million renovation.
The old lodge, Marketview Arts, has become home to artist studios, classroom areas for York College art students and gallery and event space.
Later, York College established the Center for Community Engagement in the former Lafayette Club, founded in 1898.
From its beginning, the Lafayette Club had erected fences, admitting its first woman as a member in the early 1990s and its first Black member on its 100th anniversary in 1998.
So a center set on developing relationships with the local community in a former racially segregated men's club represents a contrasting idea to, say, building a fence to define York College's campus.
To paraphrase Jeff Kirkland's comment, it's an idea that works in this day and age.
The questions
Can you think of other community institutions that unintentionally built barriers, physical or psychologically? When those accidental barriers are constructed, what can the community do to address what divides us?
Related links and sources Various York Daily Record stories, 2007 and 2008. Promo photo, Jim McClure; other photos, York Daily Record.
---
— By JAMIE NOERPEL and JIM McCLURE