Doing do-it-Yourself community projects
York community garden
West College & South Penn Street, York, Pa.
The situation
The vacant lot at South Penn and West College in York served bred weeds and litter. It served as a symbol, unfair in some cases, for that neighborhood. There is crime there, but many good people, too.
About four years ago, Yoko and Robert Enomoto came to a decision. They would change that, create a garden that would grow neighborhood pride and change minds.
It would be an oasis of peace.
Today, the work of this family made this corner a place of joy.
Their loving labor is an example of do-it-yourself urbanism, a practice that seems to be growing in York County.
As government resources recede, individuals are stepping forward to solve problems, to get things done.
"It may seem like a simple notion, a garden that could transform a neighborhood and change perceptions and minds," Mike Argento of the York Daily Record wrote about the Enomotos and the community garden, "In her religion, gardens are places of peace, places where human beings are reminded of their connection to the world and the universe. It may seem esoteric, but she and her husband believe it is real."
You can read more about this oasis of peace that they created: This York, PA community garden brings peace to a troubled neighborhood (ydr.com)
The witness
Tbe Enomotos are not alone in seeing a community need and acting on it.
Here are examples of informal urbanism a.k.a. do-it-yourself urbanism:
If there are other DIY projects, please comment on this post and we'll add to this piece.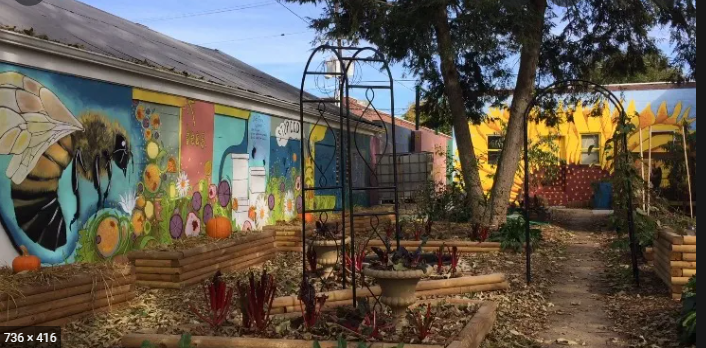 For more about DIY urbanism, check out this 99 percent invisible podcast: "The Help-Yourself City."
Do-it-yourself urbanism is part of the conversation in the Strong Towns movement.
The questions
Community members who step up to address problems in their neighborhoods are doers. They see an issue, and do something about it. How can we motivate others in York County to be doers? What messages or structures need to be in place to facilitate a culture of do-it-yourself urbanism?
Related links and sources: Jamie Noerpel's Project Penny Heaven: What started as a pretty view took on a much graver meaning – Wandering in York County (yorkblog.com). Photos courtesy of York Daily Record/Sunday News.
---
— By JAMIE NOERPEL and JIM McCLURE