Unsung sites in the Civil War
Surrender House
Farmers, Paradise Township (off of Locust Lane just south of US 30)
The situation
Historians Scott Mingus and James McClure recently put together a York Civil War Roundtable presentation that featured unsung wartime sites.
They highlighted Civil War places in York County like Horse Thief Lane in West Manheim Township, a place tireless researcher Richard Resh has identified as a refuge for farm horses when Confederates raided the county in late June 1863.
They identified the general area near Detters Mill in western York County where six men lynched a Black man, who might have been one of those raiders known for their thievery of horses. But we'll never know because they meted out their deadly version of justice with their trigger fingers.
And they told about exploring Emig's Grove near Manchester, a religious camp meeting site where an unknown Union soldier was buried and largely forgotten. The campground, today's Penn Grove Retreat, relocated to southwestern York County after a fire, leaving the soldier's gravesite behind.
But not all off-the-beaten track sites lay in remote places.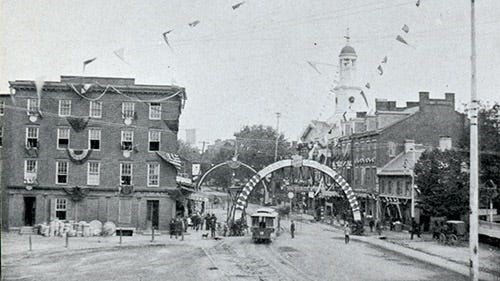 One of the places stood in the heart of York.
This patch of ground hosted a 110-foot flagpole that stood tall in the center of Centre Square, today Continental Square, in May 1861. The pole of pine played a support role to a 35-foot American flag, a banner documented in a famous drawing by noted folk artist Lewis Miller.
It was the flag the Confederates lowered after they marched into York's square in the summer of 1863 after receiving the town's surrender in a remote Paradise Township farmhouse. But the flagless pole towered above the invaders, tall and straight.
For more about this piece of history, please see: This flagpole stood tall as big and controversial York County events happened at its foot.
The witness
This is a sampling of sites that Scott Mingus and James McClure covered in the February York Civil War Roundtable presentation. For more, please see Mingus' Cannonball blog: Rediscovering York County's "lost" Civil War/UGRR sites – Cannonball (yorkblog.com).
Samuel and Mariam Berry house (off of Oakwood Lane / Camp Road between the Susquehanna Trail and Whitcraft Road).
Ezekiel and Eliza Baptist house (along Steinhour Road in Newberry Township).
Prigg v. Pennsylvania – Morgan site (off of Blain Road near Kyleville south of Airville).
Unknown Civil War soldier at Emig's Grove Campgrounds (privately owned and inaccessible without permission; off of Forge Hill Road east of N. George Street in Manchester).
Pennville – Gen. Jeb Stuart's jump on horse over waterway to evade Union captors (intersection of Westminster Road and Frederick Street south of Hanover).
Murder of freedom seeker by Fetrow family members (Garriston Road south of Lewisberry Road).
Unknown Confederate grave at Accomac and other Confederate markers (River Road a mile north of Accomac Inn). Also, a Confederate grave marker in Prospect Hill Cemetery near the office and a plaque about Confederates in Dover at the Dover firehall, Canal Road.
Horse Thief Lane near Hanover (off of Baltimore Pike south of Hanover, private property).
Surrender House at Farmers (off of Locust Lane just south of US 30).
Flagpole in Centre Square (site was in the middle of intersection of Market and George streets in downtown York, today's Continental Square).
P.A. Small's house in York (the former Lafayette Club across from the Yorktowne Hotel on East Market Street).
Lebanon Cemetery (North George Street in North York).
Memorial for Black fighting man at Wrightsville (at Mount Pisgah Cemetery off of Mulberry Street).
Burned Bridge's stone supports in Columbia (Front Street. In meadow beside Columbia Crossing).
Detter's Mill, six locals who lost horses to the Rebels murdered a Black man associated with the Confederate forces that passed through the region. (Off Harmony Grove Road, northwest of Dover in Warrington Township.
Mifflin House, Underground Railroad site (Hybla Lane west of Wrightsville).
Civil War rifle pits (on private property near the Black Bridge; others are on private property north of Nixon Park).
Other sites
Heart of Hanover Trail – Witnessing York wayside marker walking tour, mostly in Hanover's downtown, includes many detailed Civil War markers.
For Civil War posts in searchable format, see: Scott Mingus' Cannonball blog and James McClure's York Town Square blog.
The questions
In this article, we explore the symbolism of the wooden pole stripped of the American flag by the invading Confederates. While it stood tall and straight, it also was undressed – naked and bare. Out in the open it stood, vulnerable like York County after its surrender.
Symbols, much like history, are up for interpretation. How do you decipher the flagpole that stood in York City even after the Confederates left town, leaving a beleaguered York to struggle to return to business as usual? Reliably indestructible? Shamefully nude? Or, better yet, do you have your own analysis?
Share your ideas with us at jamietyson2442@gmail.com or jimmcclure21@outlook.com.
Related links and sources: Scott Mingus and Jim McClure's book "Civil War Stories from York County, Pa." Scott Mingus' Cannonball blog. Top photo by Thomas Mingus. Bottom photo, York Daily Record.
---
— By JAMIE NOERPEL and JIM McCLURE