Faith and resiliency since 1812
St. Paul (Lebanon) Lutheran Church
6955 Rippling Run Road, Felton
The situation
St. Paul (Lebanon) Lutheran Church has been around so long that its graveyard has almost encircled its pre-Civil War building in the Felton area. It goes back so far that Revolutionary War soldiers have markers there.
For a rural congregation to reach 210 years in age, it must show resiliency and perseverance to challenges that are always there. Indeed, a study of this congregation shows key challenges, no doubt similar to the hurdles any congregation of any faith must overcome to gain more than 200 candles on its birthday cake. But the fact is that most religious and civic organizations and businesses rarely reach 200 years.
People say nothing ever changes in York County – that our sturdy Pennsylvania Dutch residents are resistant to change. But when you look (below) at all the hinge points that one congregation has faced – the sharing of pastors, the loss of a longtime partner congregation, the closing of a church – these crucial moments clash with such conventional wisdom. Any one of these could have split the congregation or shut down the church.
One other thing. That graveyard? It tells a story, too. Check it out: Two-century-old Felton church illustrates message of Easter.
THE WITNESS
St. Paul (Lebanon) was organized as Flinchbaugh's or Stahley's Lutheran congregation in 1812 in a partnership with a German Reformed congregation. Such Lutheran and Reformed union churches were common in this day of pastor shortages, scarcity of funds to construct buildings and a smoothing of doctrinal differences, sharp in Europe but not so in rural America. The union congregations started with a wooden frame building.
In 1859, a brick building went up on the previous building's footprint. That brick building, with a 1860 datestone, stands today.
In 1888, the railroad running in the valley below the church prompted sufficient growth in future Felton borough that a congregation formed. That congregation, St. Paul, shared a pastor with Lebanon's congregation on the hilltop.
In 1892, the union partnership was dissolved 80 years after it formed, and Lebanon's Lutheran congregation met alone in its tidy brick building.
In 1893, a bilingual pastor left the two congregations, saying that a German-speaking minister was no longer needed. This signaled that the congregation has weathered the question that divided other churches: Should services be in English or German?
The church underwent renovations and expansions over the years, at one point securing an architect who had trained with the noted Dempwolf firm of York. That could explain today's striking appearance of this pre-Civil War building.
In 1978, the St. Paul and Lebanon congregations merged and worshipped on the hilltop, and the Felton building closed.
In the 1990s, the congregation built a modern parish or fellowship hall across the street that provided recreation and social space. Such investment indicated the congregation had an eye on the future.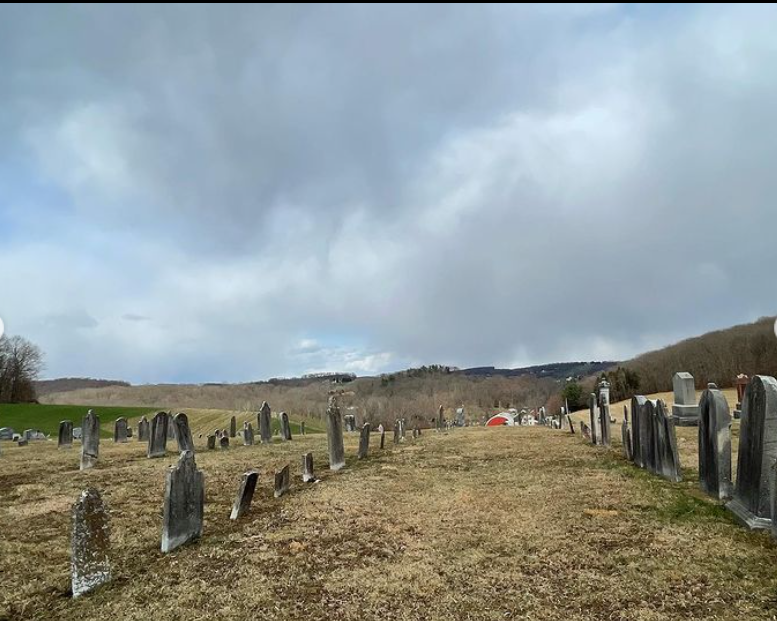 The questions
Jamie Kinsley, one of WitnessingYork.com's operators, grew up going to this church. As a child, she didn't appreciate the church's rich history. That is where we decorated crosses for Easter, buried our loved ones, and sang hymns together. It wasn't until later in life when she noticed the foreign language on the stones or the symbols of Revolutionary War soldiers on the graves. This place of worship transformed into a place of meaning, of history, and of deep family heritage as she gazed across the grounds with new eyes – almost as if seeing it for the first time.
Have you experienced a similar epiphany? Have you ever realized, maybe as an adult, that a place from your childhood held a much richer history?
Related links and sources: York County History Center files include newspaper clips and minutes books of the church council. Top photo by Jim McClure. Photos, Joe McClure
---
— By JAMIE NOERPEL and JIM McCLURE