Four years of Wrongful incarceration in York County Prison
"Access to Justice": The mantra of liberty for the Golden Venture
3400 Concord road, York
The situation
Imagine undergoing a surgery where the government sterilizes its people — by force. That is what happened to many in China due to the one-child policy enacted in 1980. In February 1993, the Golden Venture, a freight ship, smuggled 286 people out of China who wished to escape such harsh treatment as well as other grounds for asylum.
However, their misfortune was just beginning.
Snakeheads, human smugglers from China, charged anywhere from $30,000 to $80,000 per head for passage. They tormented and ridiculed the helpless refugees up until the ship ran aground on June 6 on New York's coast.
American immigration law at the time stated that any refugee must plant one foot on the ground for asylum. Fearing an expulsion back to China, they jumped into the water, hoping to touch the soil that symbolized a beacon for immigrants.
Ten drowned.
Out of the 270 captured by the immigration service (six escaped), 154 were sent to York County Prison where they would await a fair trial, or so they thought.
Some were chained to beds upon arrival. Without representation, they awaited hearings with lawyers inexperienced in immigration law and untested translators.
Their charge?
No criminal charges were filed.
Jeff Lobach, president of the bar at the time and partner in the Barley Snyder law firm, believed the label "illegal aliens" didn't capture the human rights violations many faced while in China. Lobach initiated a bar association effort to represent the Golden Venture refugees without charge, ironically at the request of the Justice Department.
"Access to justice is what really drove the legal effort," Lobach said in a panel discussion at York College of Pennsylvania.
In an interview with Witnessing York, Lobach explained more:
We had been strongly emphasizing pro bono legal representation by bar members and had recruited more volunteers than we had cases for a brief time. When 118 of the nearly 300 Golden Venture passengers were moved to York, the INS (now ICE) contacted the bar office and asked if our association could arrange for pro bono representation of the detainees.
At the time, we thought this was a legitimate request, nothing more than it appeared to be, and without hesitation we agreed to see what we could do. The timing was somewhat propitious. A lot of our York pro bono volunteers had no expertise in the areas relevant to the needs of a many pro bono clients, which are often in family law, landlord-tenant and consumer credit. But in this situation, all of our volunteers were pretty much on the same level. At the time, none of us knew anything about immigration law.
We put out a call for volunteers and did training at the bar center. Dozens signed up, including me and five lawyers and two paralegals from my firm. We had no idea that this was going to turn into a six figure investment.
When we discovered that we had been invited into this process to provide the trappings of due process for the detainees and that the whole thing was a sham, we got organized. Craig Trebilcock (now Judge Trebilcock) had emerged as one of the most effective advocates for the detainees and I asked him to head up our task force. We represented our clients tenaciously for years, sued the Justice Department, wrote a highly publicized letter to the attorney general on the injustice being done in the closed door hearings held out at the prison.

Jeff Lobach
Eventually, two South American countries offered asylum to two men and 10 women. By 1995, four won parole until their asylum hearing. It wasn't until 1996 when the next person, Wu Luo Zhong, was granted immigrant status and released. A few months later, two more were granted parole.
According to a timeline from the York Daily Record, fifty inmates gave up hope that year. They retraced their steps back to China, and were reportedly held in bondage — again — beaten, and conscripted into forced labor.
For the 55 prisoners still in York County Prison, it would be four, long years.
Their families back in China had no idea what had happened to their loved ones. One man, Shengqiao Chen, reported that his mother set up a family shrine in his honor. She thought he was dead.
Fortunately, in York County, the media covered the story heavily because "what they were doing was wrong," the YDR's Jim McClure says, explaining they were incarcerated for four years without being charged.
To fight the boredom, the detainees created origami: the Chinese art of paper folding. At first, they used newsprint or toilet paper — whatever they could scavenge for. Supporters, strangers to them, donated magazines and other materials.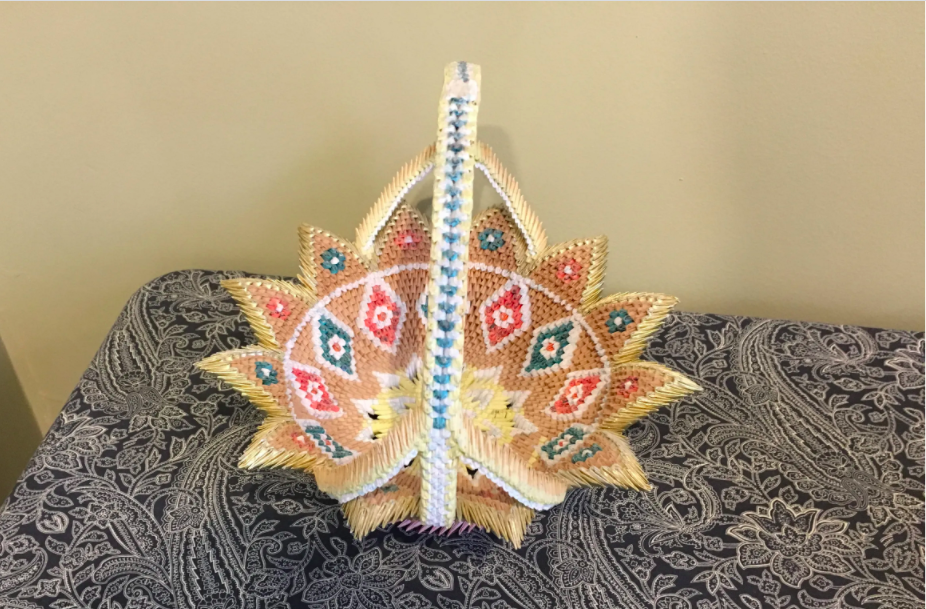 The Lobach family maintains a collection of those art pieces. You can see them on display on December 9, 2021, for the JCC's Golden Venture Film and Art Show. Peter Cohn, director of the film appropriately called Golden Venture, will be present to answer questions.
Back in 1997, one of those pieces wound up on the U.S. president's desk.
Bill Goodling, York County's Republican congressman, wanted to see the detainees released on parole.
Under the pretenses of education — he served as chairman of the United States House Committee on Education and Labor — Goodling met with then-President Clinton. He presented one of the bald eagles constructed by the inmates and told the story of the Golden Venture.
Four years prior, when Clinton was newly elected, he enforced stricter immigration laws. He couldn't afford to go light on immigration policies, fearing weak laws may signal to foreign governments to send over more people.
Clinton collected bald eagles. To Clinton, the paper art humanized the detainees. He reportedly was touched by the story and experienced a change of heart. He issued an executive order to parole the remaining 55 in York County Prison in 1997.
More, effective a 2/1/21 YDR report: U.S. Immigration and Customs Enforcement to leave York County Prison, internal memo says.
The witness
During the imprisonment, Zehao Zhou, known as ZZ, volunteered to interpret upon request from the supporters and news organizations. He recently had come to the United States and found a job at another YCP — York College of Pennsylvania. In the prison, he witnessed the detainees' pale faces, matted hair, and traumatized expressions from months at sea.
They were visibly shaken. Empathy took root in his heart.
Along with many others, ZZ became a member with "The People of the Golden Vision," a grassroots organization advocating for rights for asylum seekers. For 183 consecutive Sundays, concerned Golden Vision members and others held vigils outside the prison to cast a floodlight on the injustice.
ZZ remembers the political unison. Lawyers and politicians from all political parties worked together. "Race is monolithic here," ZZ says about the Caucasian majority in the county, "but that didn't matter." The injustice unified the people.
Today, he believes many York County sinophiles, or those strongly interested in Chinese culture, were born out of the Golden Venture affair.
In total, about 10 percent of the detainees received asylum, but many claims are pending to this day.
A recent article in The York Dispatch quoted Joan Maruskin, a founder of The People of the Golden Vision, who said: "Immigration detention is still horrendous, but it's not as horrendous as it was because the Golden Venture was the catalyst for standards that are in place around the country."
York County Prison still confines 695 immigration-related prisoners on an average daily basis, making it the third largest ICE-authorized detention facility on the East Coast.
The question
ZZ describes York Countians as a thermos: stoic and stern on the outside, but full of warmth on the inside. He's experienced more compassion in this country than his native China. When asked about racial discrimination from the recent COVID pandemic, ZZ says York County continues to be a place of acceptance. Would you describe York County as a thermos? In what ways do we exhibit a hard exterior with a tender-hearted interior?
Related links and sources : PIRC, Pennsylvania Immigrant Resource Center, recently hosted a virtual book club featuring The Snakehead: An Epic Tale of the Chinatown Underworld and the American Dream by Patrick Radden Keefe; "Golden Venture 20 years later today: Many lives remain in limbo" by Mike Argento; "Watch: A look back at the Golden Venture saga in York, Pa." by Scott Fisher; "I was born an American – but in the wrong place" by Zehao Zhou.
Photos by York Daily Record. Artwork from the Countess collection.
---
— By JAMIE NOERPEL and JIM McCLURE