Nights of unrest in Hanover
The situation
On two July nights in 1991, a tense air hovered over Hanover's square and surrounding streets. Racially charged disturbances – variously called, "riots," "fracases" and uprisings" – erupted when about a dozen motorcyclists challenged a racially mixed group of about 40 young people on the square. An exchange of racial slurs and obscenities between the two groups resulted, and many of an estimated 200 to 300 townspeople joined in, siding with the bikers.
On the next night, July 14, an estimated crowd of 500 townspeople confronted the racially mixed group gathered in a building at Chestnut and Carlisle streets. An altercation followed, and the two groups threw stones, bottles and other objects at each other. Other racially motivated incidents later erupted before a midnight curfew ended the faceoffs.
"The series of racial disturbances which ignited from that point on July 13th through the evening of July 14th did not involve serious bodily injury or extensive property damage," a panel of federal judges later wrote, "despite the grave potential for both." The judge called the two-day event a "disgraceful unrest."
Fifty-one arrests grew from the rioting. A state police investigation concluded racist or discriminatory attitudes from some Hanover-area residents contributed to the unrest.
The disturbances subsequently attracted a KKK march involving 60 to 70 participants.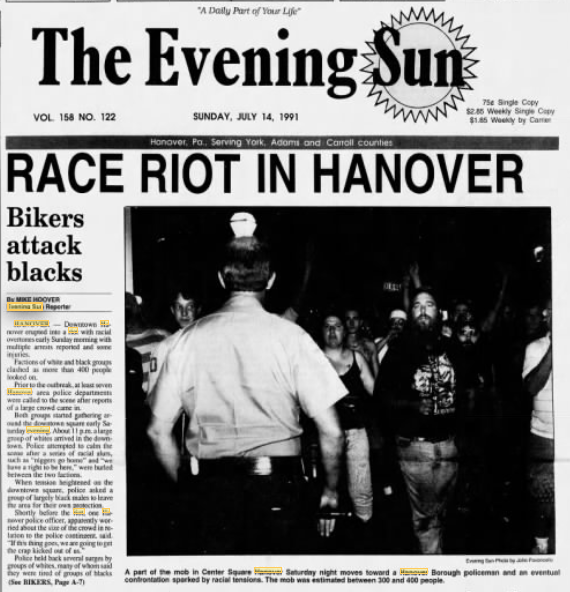 The witness
Hanover United for Equality, Diversity and Non-Violence, made up of pastors, congregations and other community members, worked to reaffirm positive attitudes toward equality, nondiscrimination and cultural diversity within the community.
With The Rev. Bruce Bouchard of Grace United Church of Christ serving as a leading spokesman, Hanover United distributed a pledge to "promote racial, ethnic and religious harmony." The pledge was designed to "break down" prejudice. Pastors included calls against prejudice in sermons, and members of Hanover United met with participants in the unrests.
Bouchard prepared a sermon the Sunday after that July weekend titled "When Seagulls fight."
"It goes back to when I was a pastor on the Connecticut coast," he told a newspaper. "Their seagulls would fight over insignificant things. And sometimes people make themselves very small and also fight over insignificant things. And the sermon is about how people can live out of their greatness instead of out of their smallness."
The questions
Some point out that slavery hasn't been around for 155 years, so why are we still talking about it? Yet, we see echoes of racist institutions today. What would you say to someone who thinks that racism "isn't a thing." How do we still see examples of intolerance in York today?
Or, a better question is how can we combat racism? What would you do if you saw people screaming racial slurs at each other?
Sources and links: James McClure's "Never to be Forgotten"; "Hanover Evening Sun; United States Court of Appeals,
Third Circuit opinion. YDR Photo.
---
— By JAMIE KINSLEY and JIM McCLURE