Jane Keenheel transformed old fabric scraps into a work of art
How fabric and an industrious woman changed a family's legacy
Fabric from a salesman's suit swatches now comprises a beautiful quilt preserved by the York County History Center.
York County's Samantha Dorm loaned it earlier this year. Her great-great-aunt, Jane Keenheel of Bamberg, South Carolina, crafted it by hand.
Many Black York County residents come from the Bamberg area.
To learn more about the story of this quilt, please see Jamie Kinsley's Wandering in York County blog post: Jane Keenheel transformed suit samples into a work of art.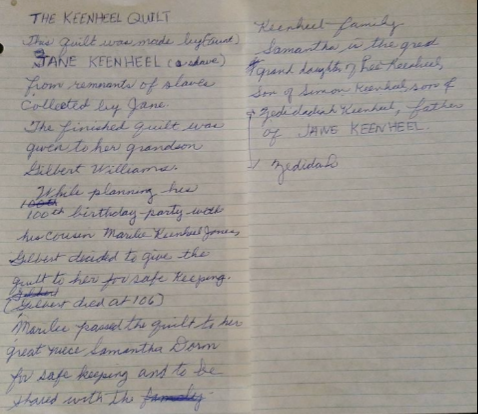 The question
What is a legacy? Many want to be remembered as brave, intelligent, or successful. In reality, once we are gone we have no control over how people remember us. Our legacy, then, depends on how we treat others while we are still alive. In Jane's case, she worked hard to transform clothing into a blanket that she gifted to others. She will be remembered as an industrious and giving woman. What are you doing to ensure your own legacy?
Sources: Samantha Dorm provided photos. The York County History Center, 250 E. Market St., York, regularly exhibits and interprets artifacts that explore the diverse culture of York County and the region.
---
— By JAMIE KINSLEY and JIM McCLURE