Florence Gipe: 'You train dogs, you educate nurses"
St. Luke's Lutheran Church
2666 Furnace Rd, Felton, PA 17322
The situation
It has been said that Florence Gipe was born to be a nurse, sharing a first name with the famed nurse Nightingale, who gave so many so much comfort.
And so it goes that Gipe graduated from the York Hospital School of Nursing in 1919 (one year after another nurse of note locally, Marie Ketterman).
She worked for York Hospital as a graduate nurse and then director of nursing from 1928 to 1935. In 1935, she moved on to several positions that vaulted her to national prominence in nursing.
Her nursing leadership at York Hospital in those years are noteworthy for at least two reasons. She would have been integral in what must have been a complex move of the hospital. It was a relocation from its 1880 hospital building on the east bank of the Codorus Creek to a medical center on the hill in south York, its site today. That happened in 1930, 50 years after the hospital opened.
June Burk Lloyd writes about a second event in Gipe's York Hospital leadership: "In an article on Gipe in 'Legacies: Remembrances of York County Women' (York Chapter American Association of University Women, 1984), a former student described Gipe as 'brilliant and strict with new ideas.' Perhaps her new ideas did not mesh with the hospital administration at that time. An article in a York newspaper on July 8, 1935 is headed: 'MISS GIPE IS APPOINTED STATE HOSPITAL CHIEF, DISMISSED YORK SUPERINTENDENT IS NAMED BY GOVERNOR EARLE, LARGER THAN YORK UNIT.' The article says that she had been dismissed by the hospital's Board of Directors, but makes a point that she was: 'Subsequently given a vote of confidence in a resolution passed by members of the staff of physicians and surgeons of York Hospital.' "
As it turned out, York's loss was the University of Maryland's gain. She earned a doctorate in education and later became a professor and the first dean of the University of Maryland School of Nursing, from 1952 until 1966.
Gipe is credited with creating the first undergraduate (1952) and graduate (1954) nursing programs at the University of Maryland. Upon her retirement in 1966, she was feted by Maryland's governor and recognized as a national leader in her field.
The Witness
An intriguing counterfactual scenario is what advancements in local nursing and community life – for Gipe was a tireless community volunteer – would have been made if she had stayed in York.
Let's look at York College, which started its four-year nursing program in 1977, as York Hospital phased out its program. York College started granting bachelor's degrees in nursing in 1982. If Gipe had stayed in York and considering what she did in Maryland 25 years earlier, degreed nursing programs likely would have come much earlier. Clearly, her ongoing presence in York County would have elevated health care here and no doubt would have saved lives.
After retirement, Gipe moved back to York County and became engaged in history studies, among many other things. This in itself is worthy of note in an era that people end long careers and head to the sunbelt. Gipe served on the council of her longtime church home, St. Luke's Lutheran Church in New Bridgeville. She wrote a history of the Chanceford Township congregation in connection with its 200th anniversary. And she took up Civil War studies, unusual for women of that day.
York College granted Gipe an honorary doctorate in 1979, with the apt notation: "educator, innovator and leader in profession of nursing."
In reflecting on York College's growth in the nursing arena – a program that today includes a doctor of Nursing Practice – Lloyd wrote: "You can imagine that Dr. Gipe was probably very pleased to see those developments."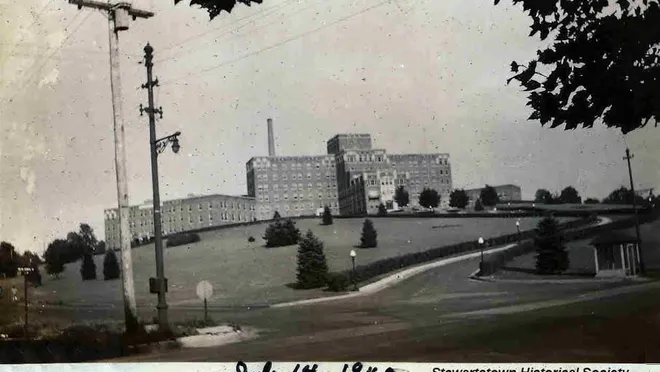 More about Florence Gipe
St. Luke's Lutheran Church celebrates 250 anniversary in York County (ydr.com)
Modern nursing education owes much to rural York County's Florence Gipe – Universal York (yorkblog.com)
Celebrating York County nurses: They do most of the work in a hospital (ydr.com)
York County's and U. of Maryland's Florence Gipe: 'You train dogs, you educate nurses" (ydr.com)
Nursing education pioneer remembered for her kindness and her interest in the Civil War – Universal York (yorkblog.com)
The questions
York College thought Gipe worthy of an honorary degree. From your perspective, who else in York County deserves an honorary degree, either past or present? Why do you think they earned such an honor?
Related links and sources: June Burk Lloyd's Universal York blog, yorkblog.com. Top photo by Jim McClure, captures St. Luke's Lutheran Cemetery where Florence Gipe and other family members are buried. Other photos, York Daily Record
---
— By JAMIE NOERPEL and JIM McCLURE