Jackson County carved from York/Adams? They tried.
Midway
Midway, Conewago Township, Adams County, 17344
The situation
The world is flat, as they say.
Global hurdles that formerly hindered trade and commerce have come down and individuals and businesses no matter the size can compete in worldwide markets.
And as we've seen on the scarcity front in recent years, the supply chain to make and distribute, say, vehicle parts, is global as well.
If commerce and even social interactions are global, does it make sense that centuries-old disunion between two towns 20 miles apart in the same county is largely accepted? Encouraged by some, in fact.
So it is time, and past time, for the hills and dales that separate York and Hanover to flatten out, too.
Not literally, of course, because the Pidgeon Hills and the Codorus Creek's west branch watershed are among the most scenic in the region, and there's enough commercial and residential development presenting threats.
As we've said, this a lack of fluidity between York and Hanover has been going on for years. Exhibit A is a campaign in the 1830s by townships in York and Adams counties to break away and form their own county – Jackson County.
As June Burk Lloyd has brought forth, the initiative gained some interest, but never made it over the hump. "Petitions … for such a county were presented several times to the state legislature during the 1830s. A few were also submitted against the idea. The proposal was considered seriously enough several times to go to a legislative committee."
For more, see: Lloyd's Jackson – the Pennsylvania county that never happened.
What can be done about an inter-county disfunction in which large numbers of people within each community don't want anything to do with the other.
Consummate community connector Andrew Smith lives in Midway in Adams County's Conewago Township, somewhere in the middle of Hanover, York and Gettysburg. He put it this way in a recent interview:
"Both towns have clung to their outdated, harmful stereotypes of the other. For example, some Hanoverians still hold overblown safety concerns about downtown York. At the same time, York residents think that Hanover is a tiny village with little to offer that York can't provide. (I'll note that some folks in each believe these stereotypes about their own town, as well.)"
The Witness
Smith is a retired teacher and artist, who volunteers in Hanover, York and Gettysburg.
You can see a full interview with Smith here: Artist makes connections to chip away at wall between York and Hanover (ydr.com).
The story evolving from the interview presented two ways – low-hanging fruit, as they way – that Hanover and York could flatten the earth: digitally and via a growing rail trail connector.
The completion of a rail trail connecting the towns would prompt people to discover the regions in a new way. An aim of a growing York County Trail Towns initiative is to accomplish just that.
For a full discussion on the Hanover Trolley Trail, please see: New life for trolley line.
Web and social media connections represent a second medium to cover the 18 miles between the towns.
So, for example, the Hanover YWCA's impressive lineup of streamed presentations can be viewed in York — and the world — in a way that was not happening 15 years ago. And Hanover residents can now take in the York County History Center presentations that are regularly streamed.
Here are Andy Smith's responses to questions about better connecting the communities: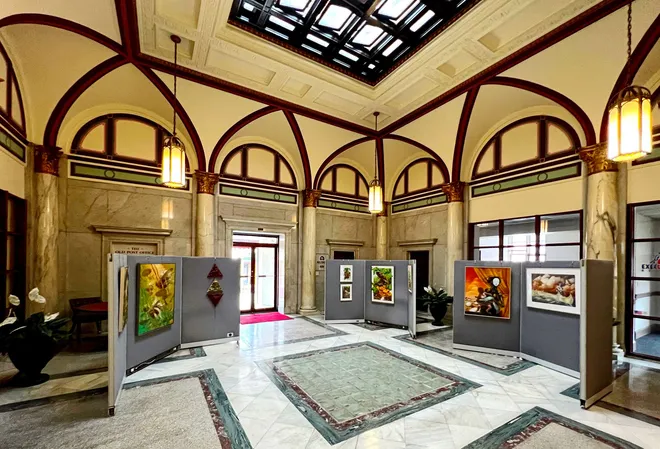 Q. You work actively in the digital space, particularly Facebook and Instagram. What opportunities does that bring for you and others in engaging with people in and outside your own community?
A. Social media has its legitimate problems, but its strengths and weaknesses depend on its use, as is the case for any tool. For example, since people value connection but are reluctant to initiate it, social media can help create that first connection where they'd otherwise feel comfortable: with their electronic device at home or (covertly) at work.
The key is to take the next step and either motivate the reader into action or invest further, perhaps by moving to an in-person connection that feels safe and supportive. Our invisible walls are less relevant online. The hope is that once a connection is made, they cease functioning as real-world barriers.
Most social media users are overwhelmingly consumers. But, strategically, if one is willing to be a producer of content perceived as valuable, there's an opportunity to be impactful.
Personally, I find it more interesting to be a content producer anyway. It's undoubtedly the more creative avenue, so I find it more rewarding than scrolling.
Q. Have you thought about the prospective effectiveness of the proposed Hanover/York rail trail as a lever to form connections between those communities?
A. I've been very pleased that the long-discussed Hanover-York trail has seen a lot of traction lately, and I've been attending some of the meetings. Those involved with bicycling have been high in attendance, which is excellent; their energy is impressive.
I'm hoping that a broader range of Hanoverians become active. Even beyond the obvious health benefits, economically, it's a smart move for both towns, particularly if we tie the trail into Hanover's downtown area. Studies are clear that trail towns benefit in numerous ways, and improvements in towns intended for those on the path are often beneficial to everyone.
Extending the concept west to bridge Hanover to Gettysburg would also be exciting, noting our shared historical elements. There doesn't seem to be as much forward motion on that yet, but perhaps success with a York-Hanover connection will spur that Adams County concept.
To see artist Andy Smith at work, see: https://www.instagram.com/tv/B_8wjOvHISb/.
For a sampling of comments from residents about the idea of York and Hanover working more closely together please see these comments: Hanover Area News Source and All about Hanover.
The questions
Have you been to Hanover? Do you feel like it's a part of York County, or it's own community altogether?
Related links and sources: James McClure's "Almost Forgotten." Photos by Andrew Smith.
---
— By JAMIE NOERPEL and JIM McCLURE