Undoing Carlisle's cultural genocide
Carlisle Indian Industrial School
530 E North St, Carlisle
Update: Please note that the Native American Festival set for September 11-12, at Indian Steps Museum has been canceled.
The situation
In 1879, Thomas Edison illuminates the world. His incandescent light display in New Jersey brightens our streets and houses, killing the night forever. That same year, a facility in Carlisle, Pennsylvania likewise changes the world; but in a way that darkens it — not brightens.
Before European settlement, Indigenous Peoples live in our area for centuries. However, colonization pushes the them off their native lands. As more immigrants settle, the tribes move west. It soon becomes evident that the Native Peoples can't be shoved any further.
By 1879, the same year as Edison's lightbulb demonstration, a one of a kind square school opens just northwest of York County in Carlisle. Unlike a well-rounded instruction of tolerance and acceptance that marks our educational institutions today, these schools strip away and shame.
To address the "problem" of the existence of Native American tribes, Civil War veteran Lt. Col. Richard Henry Pratt leads the opening of the first government-operated residential school for Native Americans: The Carlisle Indian Industrial School.
It's mission? Assimilate the Native American children into white culture. Pratt and the school's representatives relocate children from Oglala Sioux and Brule Sioux tribes from the Dakota Territory, forcing them to shed their identity as they traverse thousands of miles to reach the east coast. This Pennsylvania school represents just one of the 375 plus square boarding schools across the nation.
It starts with outward appearances. The children's hair is cut, clothing thrown out, and shoes replaced with European garb. Next, their inner-selves are attacked. The names given to them at birth are replaced with European names. In order for the children to blend in, they also must forfeit their language and religion. Christianity and English replaced their native tongue and belief systems.
When students refuse or simply make a mistake, their guardians enforce the assimilation through corporal punishment or even solitary confinement.
Their culture, in essence, is canceled — permanently.
For almost forty years, the school "civilizes" close to 10,000 children. Today, the idea of replacing someone's identity with an ethnocentric conversion makes us cringe — rightfully so. However, Pratt and others think this was the only way for Native Americans and whites to coexist. Pratt's motto, "Kill the Indian, Save the Man," speaks to his goals of cultural genocide, not homicide, even though both are wrong.
While the Carlisle Indian Industrial School attempts to eradicate Native American culture, Indian Steps Museum in Airville embraces it today.
John Edward Vandersloot, a local lawyer, completes the museum in 1912, naming it after a rock-carved pathway that curved down to the Susquehanna River. In true legal fashion, Vandersloot sued the power company that built Holtwood Dam when the rising water submerged the steps. He won $18,000, but those carvings are lost to the water.
On September 11-12, Indian Steps Museum will host its annual Native American Festival. Members of the Native American community will display artwork, sing, dance, and play music, including Jack Richardson who will have drums for sale.
The witness
Richardson descends from the Haliwa-Saponi People still active in North Carolina. He's lived in Manchester Township for 27 years, and continues to travel for festivals. In the 1990s, Richardson among others, played a vital role in starting the Pow Wow held annually at Indian Steps Museum. He used to dance and sing, but now he largely perpetuates his family's tradition through the creation of drums.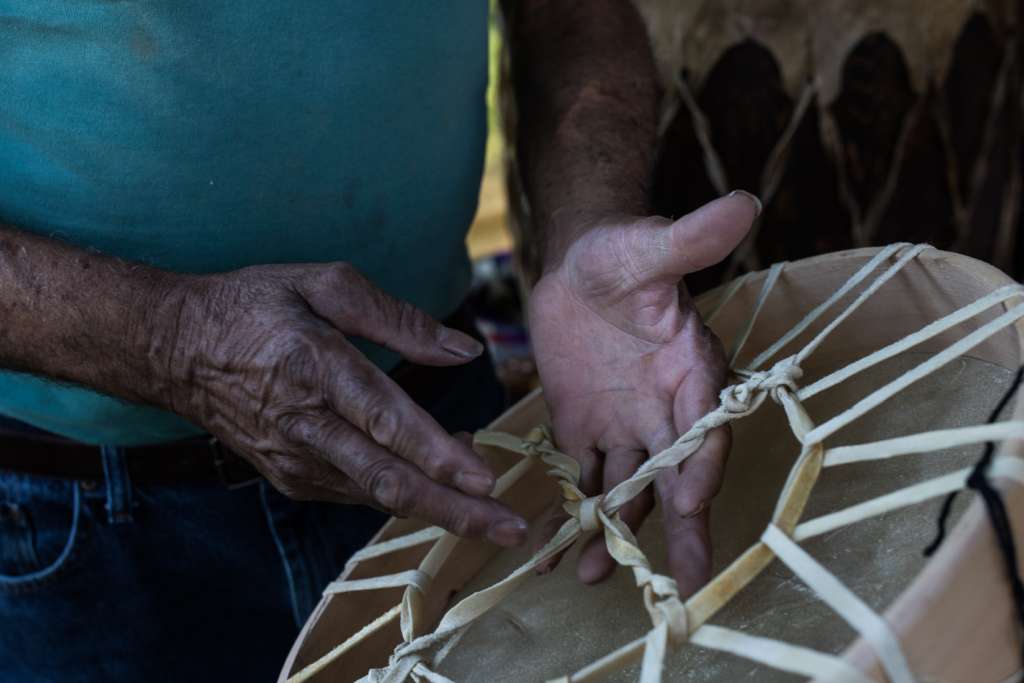 Like Richardson, Jess McPherson continues her family's traditions. McPherson, a Spring Garden resident, identifies as a Susquehanna Indian of Shawnee descent. She's not only an artist herself, but actively works to protect and celebrate Native American culture. She says "The whole goal of the Carlisle Indian School was to eradicate the indianness of a person."
That generational trauma hasn't completely healed. "It's still there," she says. "Those things are still within us." Yet, McPherson remembers the determination of her ancestors. "We also know there is that strength in us that got us through to our time." McPherson says her history still affects her and others. "[It] explains how we respond to the world. We have an obligation to recognize what happened and learn from it."
Deb Haaland, U.S. Interiors Secretary under the Biden Administration and first Native American to serve as a Cabinet secretary, launched an action plan to address these past wrongs. The Federal Indian Boarding School Initiative will identify other residential schools like Carlisle in order to locate the cemeteries.
"The Interior Department will address the inter-generational impact of Indian boarding schools to shed light on the unspoken traumas of the past," Secretary Haaland said, "no matter how hard it will be." Official recognition like this promises sustained measures to address a wrong executed long ago.
However, it's people like Richardson and McPherson who will be at the exhumations, feeding people and seeing that the remains are handled with care. Close to 190 exhumations have taken place at the Carlisle Indian Industrial School cemetery. These repatriations started in 2017 at the request of the families, and will continue until all the children are home.
The light, like the lightbulb, will finally shine on these stolen children.
The questions
To tell this single story of York County's relationship with Indigenous tribes would miss the complexities of our past. What other examples are there of these interactions?
About 190 students were moved from their resting place at Carlisle Indian School for the construction of a parking lot. The U.S. Army produced a map of the original 1927 cemetery to help with that relocation. On the map, some identifiers include full-names, but others simply read "Denis" or Dora." What more can we do to give these children the respect they deserve?
Related links and sources
Lawilowan American Indian Festival Inc.; "Three American Indian tribes, four York County artists" by Jamie Kinsley; Carlisle Indian School Digital Resource Center; The National Native American Boarding School Healing Coalition; the Circle Legacy Center represents one of the organizations who tends the graves of the children still interred there.
Top photos by YDR. Bottom photos by Shane Bahn Photography.
---
— By JAMIE NOERPEL and JIM McCLURE