Providing fresh, affordable vegetables to York city and beyond
Urban farming:
Thriving agriculture in the city
150 Willis Road, York
The situation
Shyanne Kimble cleans spinach, soaking the brilliant green leaves in water. She picks out the yellowed ones and cuts the long stems. Next she places them in a large, red tub that will spin the water right off the leaves.
Kimble is 26 years old, and has been farming for three years. She explains, with a beautifully deep voice, how important agriculture is to her. "I was in and out of factory work and didn't like it." She went onto Indeed.com and looked up "outside work." That's when she stumbled onto York Fresh Food Farms — her current employer.
York Fresh Food Farms is a one-acre urban farm located at 150 Willis Road in York (It has two additional acres at a Roosevelt Av. location). In its six years in business, this past year was its best season yet. Home deliveries, pop-up mobile markets and more people using food subsidy payments such as SNAP and EBT all led to the organization's growth.
As a multiracial woman – Kimble's father is Native American and Black and her mother is Hispanic with French heritage – Kimble wonders why more people of color aren't in agriculture.
As of 2017, 98.6 percent of farmers in York County are white. That means less than 1.4 percent are people of color, according to the United States Department of Agriculture. Even though the majority of York Countians are white — 88.7 percent — the discrepancy still stirs questions as to why people of color aren't farming.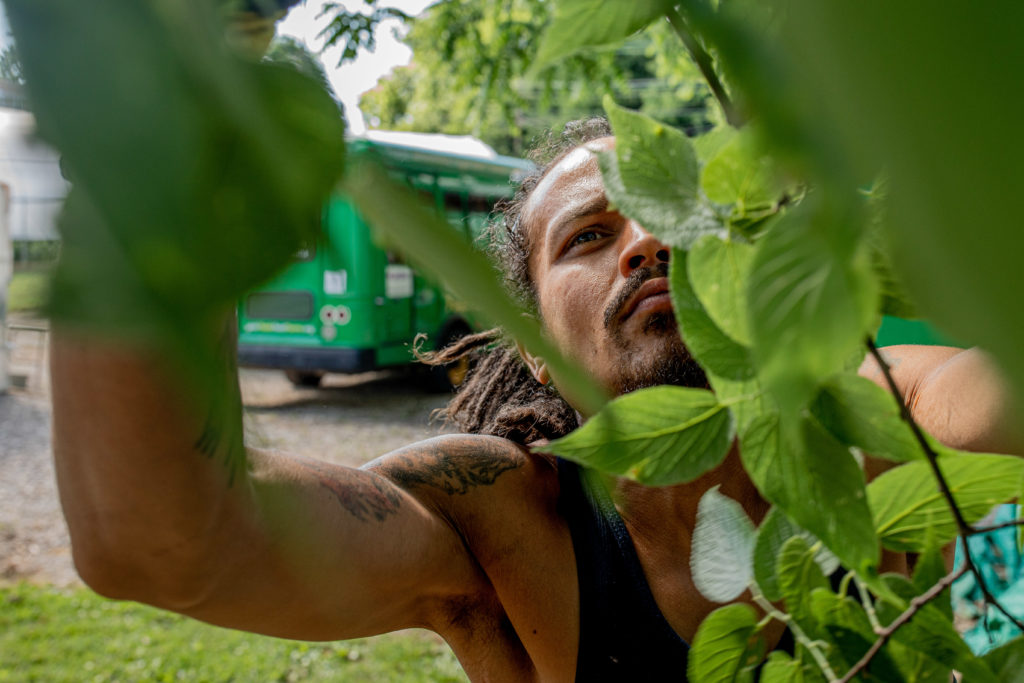 The witness
Erick Negron was born in Puerto Rico but moved to the continental United States when he was 5 years old. Early on in his young adulthood, Negron took to selling drugs. "I've got a rap sheet this thick," he says, lifting his index finger and thumb up to show about an inch. "But, I stopped messing with the streets and now I'm a farmer."
Negron is one of the many Hispanics who live in York. Out of the 44,000 people who live in the city, 33.3 percent are Hispanic. According to Data USA, 8.3 percent of York residents were born outside the United States.
While many Yorkers enjoy the typical foods such as tomatoes, onions, and potatoes, YFFF had trouble selling kale, kohlrabi, collards, and okra. Now, however, they found they can't keep okra in the vegetable bins. "We learn from trial and error," Kimble says.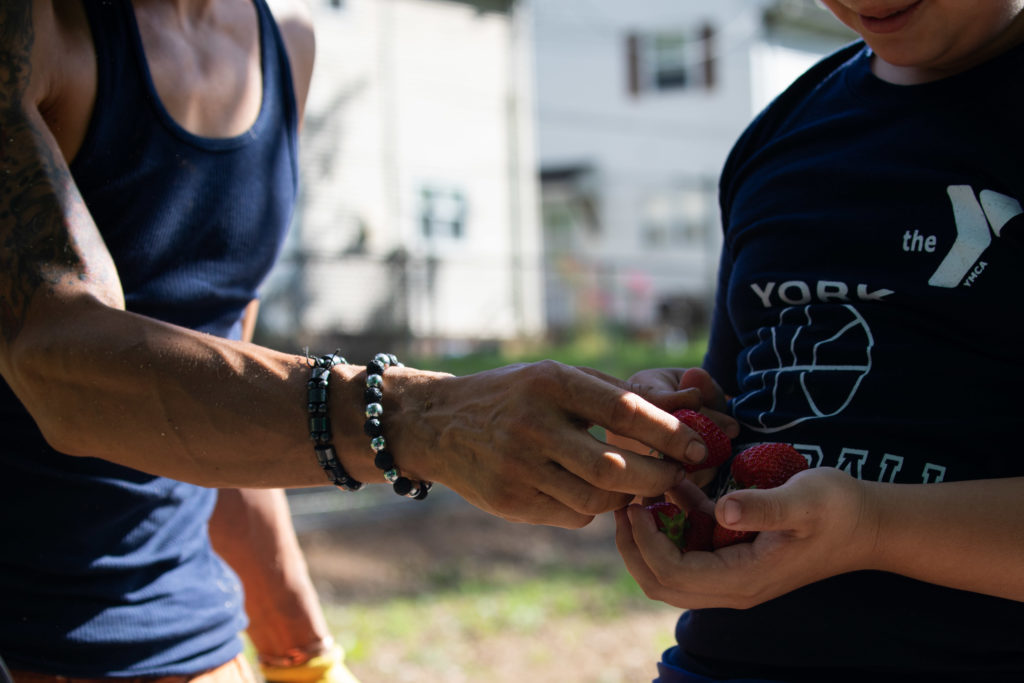 One reason for its YFFF's success is its attention to York's demographic. For instance, a popular dish among Hispanics is sofrito. Now, Negron and the other employees grow all the ingredients required for sofrito including garlic, onions, bell peppers, and cilantro. In his personal garden, Negron also started planting gandules, or pigeon peas, a common Hispanic food.
Even though YFFF is bridging the gap between its fields and the people, it doesn't explain why few people of color farm.
Negron believes one reason is that the community equates farming to slavery. "A lot of us are from the Caribbean," Negron says.
To people from places where enslaved peoples toiled, farming means rows of commercial crops like cotton, coffee, or sugar. "They made us grow certain crops," Negron says.
Farming like this "misses the prettiness of nature," Negron says.
The same idea stands for some African Americans who have been farming a long time in York County. Unfortunately, many were enslaved prior to the 13th Amendment. However, a few, such as Eliza and Ezekiel Baptiste, operated farms even before the Civil War.
An article in The Nation reported that Blacks farmers lost their farms in vastly disproportionate amounts when compared to white farmers during the 1990s nation-wide. For a comparison, in 1920, one in every seven farm were operated by an African American, but by 1992 only one out of 100 farmers were Black-owned.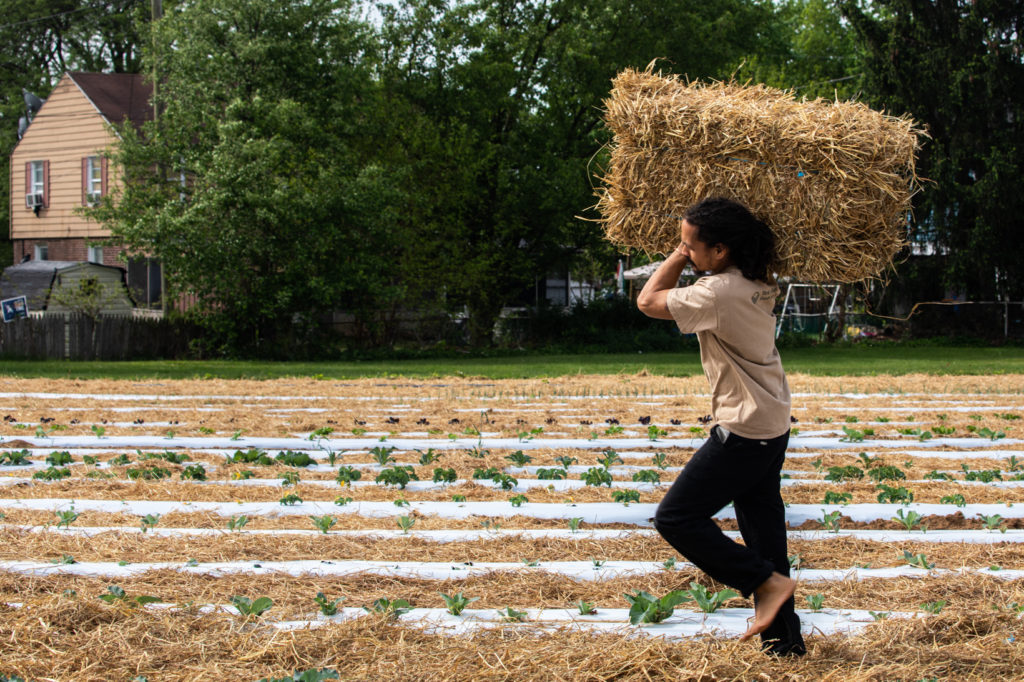 Because of this challenging heritage, people left the occupation and young people don't seem interested either. But for people like Negron, "I believe there is a future for me in agriculture," he says. Once he saves enough money, Negron plans to move back to Puerto Rico to homestead. With a few acres, he wants to cultivate exotic foods to feed himself and the locals.
Negron and Kimble wish more people would eat a plant-based diet. Kimble wants people of color to know "it's possible." The knowledge of farming may have been lost when their elders escaped enslavement, but they want to teach people simple information to empower those to fend for themselves.
"All People have a Right to Fresh, Healthy Foods," YFFF's website reads. "Food Justice is Racial Justice."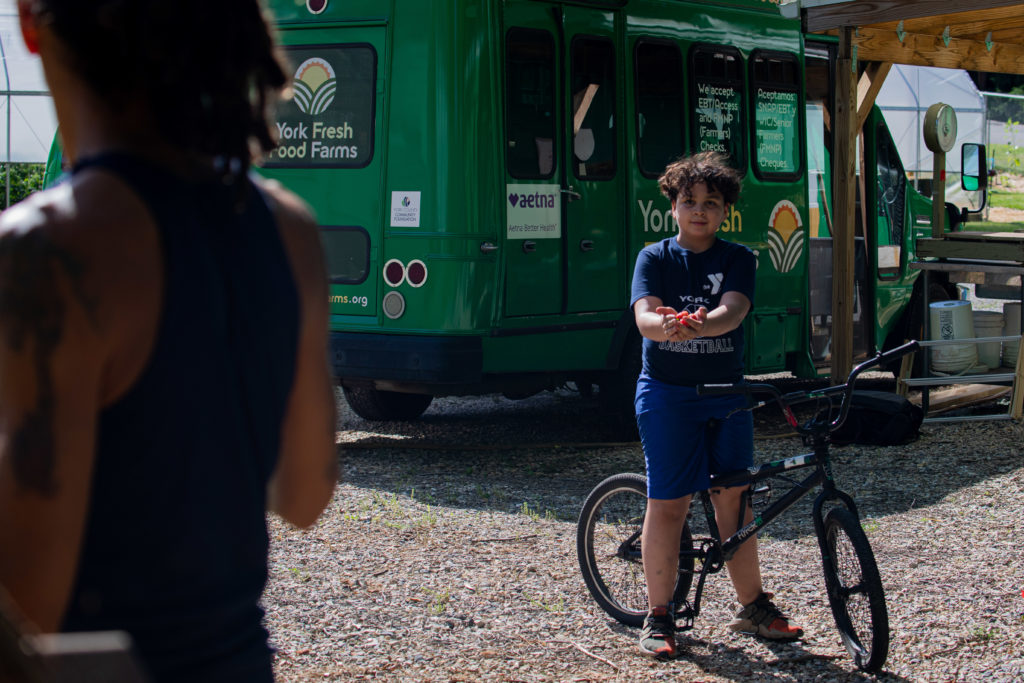 "We were stripped of our language and the food we eat," Negron says. "You either learn how to provide for yourself, or you continue to work for someone else." Where food used to be used to control, it can be their deliverance.
This summer, YFFF is partnering with Martin Library to launch the Get Your Hands Dirty program — a weekly educational workshop for about 100 inner-city children to learn about food, where it comes from, and how to grow it. YFFF hopes it will inspire children to make healthier choices and more willing to try new vegetables. Maybe some of those children will grow up to be farmers like Negron or Kimble.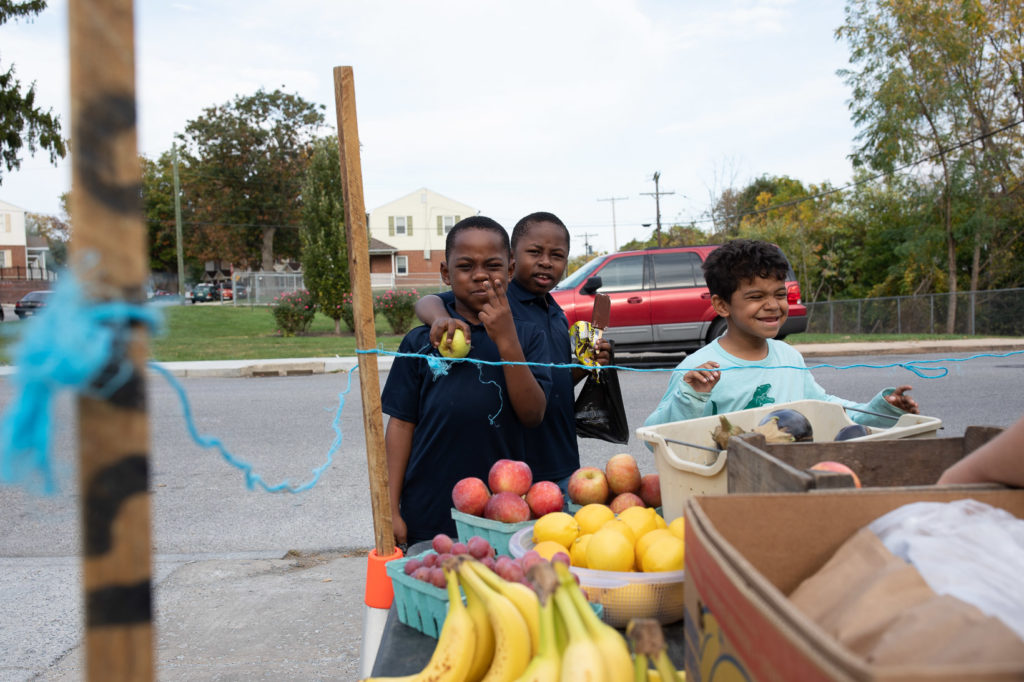 If not farmers, then at least gardeners. Surveying downtown York, many people find ways to grow food through small backyard plots or container gardens. Furthermore, community gardens such as the Northeast Neighborhood Association and others give inner-city residents a place to cultivate their own sustenance.
The bottom line is that Hispanics are farming, they just don't own the land. June Lloyd has written about migrant workers, explaining, as one example, that many people from Puerto Rico came to York County in the 1950s to harvest fruit (234 out of the 400 workers in 1952). Seasonal workers in orchards remain an important part of this region's agribusiness.
Ambitious people like Negron and Kimble find ways to sink their hands in the soil. They might not be documented in property ownership data, but they are still farming. "The human species is so distracted by busily working," Negron says, "Look down and see what you're eating. You could see that you can take your five by five [foot] backyard and grow food."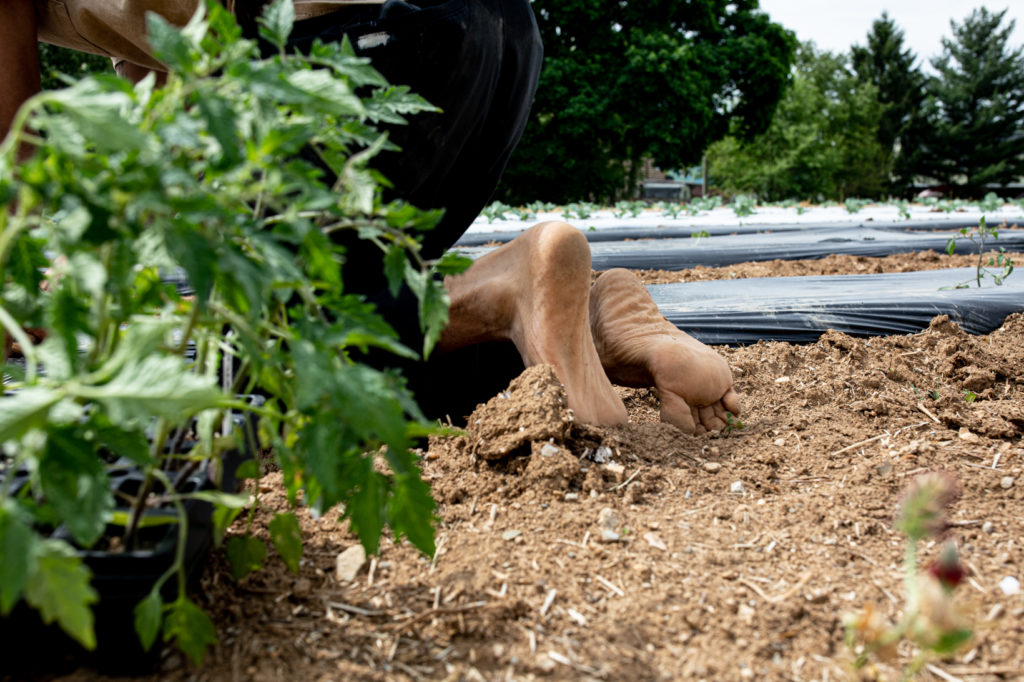 The questions
A 2015 report found that only four percent of adults in York County consume at least three servings of vegetables a day. As a response, Wellspan offers counseling classes from registered dietitians and nutritionists. What else can we do to connect people to fresh and affordable food?
"Once you know yourself, it's a constant battle to stay in touch with your soul," Negron says. "You can't control the world, but you can control what you eat." How can we continue to encourage people to grow their own food?
Spanish version
Trayendo vegetales frescos y baratos a la ciudad de York, ¡y más allá!
LA SITUACIÓN
Shyanne Kimble limpia la espinaca, sumergiendo las hojas verdes brillantes en agua. Pone a un lado las hojas amarillas y corta los tallos largos. Luego las pone en un envase grande y rojo que drena toda el agua de las hojas.
Kimble tiene 26 años, y viene dedicándose a la agricultura por tres años, y con su voz grave y encantadora comparte cuán importante es para ella el arte de crecer y cultivar. "Me la pasaba de fábrica en fábrica, y no era para mí". En busca de "trabajo al aire libre" en Indeed.com se topó con su nuevo empleador: York Fresh Food Farms (Y3F).
York Fresh Food Farms es una granja urbana que mide un acre ubicada en 150 Willis Road, York. La granja,Y3F, incluye una segunda parcela de tierra de dos acres en Roosevelt Ave. En sus seis años de existencia como una organización sin fines de lucro, tuvo su mejor jornada durante el 2020. Envíos a domicilio, mercados de ventas emergentes, y más personas utilizando los programas de subsidios para comidas, tales como SNAP y EBT, han contribuido al crecimiento de la organización.
Kimble es una mujer multiracial, el padre de ella tiene raíces indígenas de las Américas y África, y la madre de ella es de origen hispano y francés. De todas maneras, ella se pregunta porqué no hay más agricultores que tengan raíces indígenas como ella.
En el año 2017 se realizó una investigación que probó que el 98.6 por ciento de los granjeros en York County eran blancos caucásicos, significando que menos del 1.4 por ciento representaba a las minorías, según el Departamento de Agricultura de los Estados Unidos. A pesar de que la mayoría de los residentes de York son blancos (88.7 por ciento) la discrepancia aún le abre las puertas a la pregunta: ¿dónde están las personas "de color" cuando se trata de la agricultura?
EL TESTIGO
Erick Negron nació en Puerto Rico pero se mudó a los Estados Unidos cuando tenía 5 años. Durante su niñez, Negron vendía hierbas y plantas medicinales (que en los ojos de la ley son ilegales). "Tengo una lista llena de antecedentes bien larga", comparte Negron mientras que con sus dedos mostraba el tamaño de la lista. "Por más de tener un pasado oscuro, dejé la calle y las drogas para poder dedicarme a la agricultura."
Negron es uno de los muchos hispanos que viven en York.
De las 44.000 personas que viven en la ciudad, el 33.3 por ciento son hispanos, y en base a Data USA, el 8.3 por ciento de los residentes de York nacieron fuera del país.
Dado que muchos 'Yorkers' compran las verduras típicas como las cebollas, papas, zanahorias, Y3F tenía dificultades pasando un momento duro tratando de vender sus coles rizadas, berzas, ocra, colirrábanos. Sin embargo se dieron cuenta de que no paraban de vender todo el ocra que cosechaban. "Aprendemos por cometer errores," agrega Kimble.
Una gran razón por el buen desempeño de Y3F es gracias a su atención a las demográficas. Por ejemplo, un plato popular de origen hispano es el sofrito. Negron y los demás empleados y voluntarios cultivan los ingredientes que se necesitan para el sofrito, incluyendo ajo, cebollas, pimiento y cilantro. En su granja personal, Negron crece sus propias gandules para rendirle tributo y honor a sus raíces hispanas.
A pesar de que Y3F está achicando la brecha entre las granjas y las personas, todavía nos preguntamos ¿por qué hay tan pocas personas de color practicando el arte de crecer y cultivar?
Negron cree que una razón es porque en nuestra sociedad, las comunidades asocian la labranza con la esclavitud. "Muchos de nosotros venimos del Caribe," comparte Negron.
Cuando uno crece oyendo historias de la esclavitud de sus antepasados, al ver una parcela de tierra no puede evitar pensar en la agricultura comercial del algodón, café y azúcar que esclavizó a sus bisabuelos. "Nos obligaron a cultivar sus cultivos, los cuales no eran nativos de nuestras tierras caribeñas. Esto nos hizo perder nuestro contacto con la esencia natural de la vida tropical que solíamos tener hasta que la lujuria del hombre blanco acaparó nuestros territorios y mentes," agrega Negron.
La misma idea está vigente dentro de las mentes de los afroamericanos que han estado cultivando en el condado de York por mucho tiempo. Desgraciadamente, muchos fueron esclavizados debido a la Enmienda número 13 (13th Amendment), pero, a pesar de eso, tales personas como Eliza y Ezekiel Baptiste operaban su granja antes de la guerra civil.
Un artículo de la editora "The Nation" reportó que, por el mundo entero, los granjeros afrodescendientes perdieron sus territorios de una manera sumamente desproporcionada en comparación a los granjeros "blancos" en los años 90.
Para comparar, en 1920, una de cada siete granjas eran operadas por un africano-americano, pero en 1992 sólo uno de cada cien dueños de granjas eran afroamericanos.
Debido a esta desagradable herencia dejada por el hombre blanco, no hay más nadie interesado en continuar con el legado. Ni los jóvenes se ven interesados. Sin embargo, granjeros como Negron tienen fe. "Creemos que hay un futuro tanto para mí, como para el mundo, dentro de la práctica agricultora," Negron comparte con pasión.
Negron se prepara para mudarse nuevamente a la isla de Puerto Rico en julio para empezar su propia granja autosustentable en donde pueda cultivar frutas y verduras tropicales exóticas para alimentarse a sí mismo, a los residentes de la isla, y a su comunidad y seres queridos que seguirán residiendo en York.
A Negron y Kimble les encantaría ver a más personas comiendo una dieta a base de plantas, y quieren que las minorías de color sepan que esto es posible, y que no tenemos que seguir comiendo las comidas chatarras que nos encajan en la cara.
Aunque la sabiduría y las experiencias agricultoras de sus ancestros se han perdido durante los tiempos de esclavitud, ellos están aquí para compartir información simple, pero llena de poder para que todos puedan cuidarse solos sin la necesidad de seguir participando en el sistema que les oprime.
"Todos merecemos tener acceso a alimentos frescos y saludables" dice el sitio web de Y3F. "La comida justa y verdadera representa justicia racial."
"Nos quitaron nuestro idioma, y hasta las comidas que solíamos cultivar y comer," comenta Negron. "Puedes aprender a proveer tus propios recursos, o continuar trabajando para alguien más." Donde la comida se ha utilizado para controlarnos, podemos revertir el patrón y comenzar a utilizarla para liberarnos.
Este verano, Y3F está colaborando con Martin Library para lanzar el programa Ensúciate las Manos (Get Your Hands Dirty), un taller educacional semanal para más de 100 niños del centro para aprender sobre la comida, de dónde viene, y cómo cultivarla. Y3F espera inspirar a los niños a realizar opciones más saludables y probar más frutas y vegetales; y, quizás, algunos de esos niños querrán ser granjeros como Negron y Kimble.
Incluso si no hay granjeros, todavía tenemos jardineros. Según una encuesta en York, muchas personas se encuentran creciendo su propia comida en sus pequeños jardines y patios. Además jardines comunitarios tales como la Asociación del Barrio Noreste (Northeast Neighborhood Association, NNA) y otras granjas les brindan a los residentes de las zonas urbanas un lugar donde pueden cultivar sus propios alimentos.
La conclusión es que los hispanos están cultivando, pero no tienen sus propias parcelas de tierra (recuerda que fueron acaparadas por el hombre blanco).
June Lloyd ha escrito sobre los trabajadores migrantes, explicando que muchas personas de Puerto Rico vinieron al condado de York en los años 50 a cultivar frutas (234 de los 400 obradores agricultores en 1952). Los obreros migrantes de frutas forman parte de un factor muy importante en los negocios de agricultura de la región.
La gente llena de ambición como Negron y Kimble encuentran maneras de sumergir sus manos en la tierra. Quizás no tengan mucha información en cuanto a ser propietarios de parcelas de tierra, pero aún así están trabajando la tierra. "La especie humana está muy distraída con sus trabajos sistemáticos de las 9 a las 5," dice Negrón y él aconseja, "mira tu plato y piensa en lo que estás comiendo. Con 5×5 pies de patio puedes cultivar tu propia comida."
LAS PREGUNTAS
Un reporte del 2015 encontró que sólo cuatro por ciento de los adultos del condado de York consume tres tazas de vegetales por día. Por esta razón, Wellspan ofrece clases de consejos por parte de dietéticos y nutricionistas registrados.
¿Qué más podemos hacer para conectar al pueblo con proveedores de comidas frescas, asequibles y saludables?
"Una vez que conozcas al verdadero ser que llevas por dentro, es una lucha constante para mantenerse conectado a lo verdadero del alma. No puedes controlar el mundo, pero sí puedes controlar lo que consumes." Sabias palabras por parte de Erick Negron.
¿Cómo hacemos que las personas se interesen más y tengan el incentivo necesario para cultivar y crecer su propia comida?
Related links and sources Jamie Kinsley's dissertation "The Garden in the Machine." Photos by S. L. Bahn Photography. For a full list of York's community gardens, visit York County Food Alliance. Dispossession: Discrimination against African American Farmers in the Age of Civil Rights by Pete Daniel.
Enlaces y fuentes relacionadas por parte de la tesis de Jamie Kinsley "El Jardín en la Máquina (The Garden in the Machine)." Fotos por S. L. Bahn Photography. Para una lista completa de los jardines comunitarios de York, visita York County Food Alliance. Dispossession: Discrimination against African American Farmers in the Age of Civil Rights por Pete Daniel.
---
— By JAMIE NOERPEL and JIM McCLURE
— Traducción realizada por WWW.RENTERPRETER.NET
(solicitudes a renterpreter@gmail.com, o llama al (717) 420-4832)